This article is intended for all end users and patients who are not yet associated with a place of work, school, or doctor's office on the Thrive Health platform.
There are two ways to join Thrive Health. Either an email invitation (Workflow #1) or a registration code (Workflow #2) will be provided to you.
Workflow #1: Email invitation
1. Your referring organization will send you an email invitation which will come from contact@thrive.health. The subject line will say "[Organization Name] Invites you to Join Thrive Health"
2. To register, click on the blue Get Started button, or copy and paste the URL into your web browser.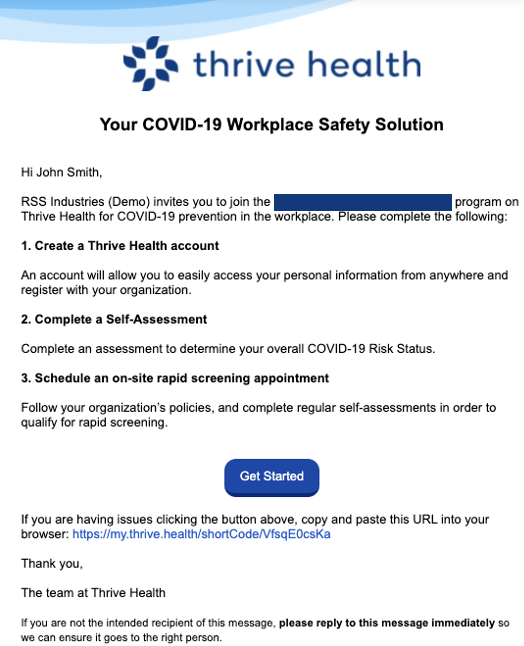 3. After clicking the Get Started button or entering the URL, you will be directed to either app.thrive.health or my.thrive.health.
4. You may choose from the three (3) available ways to connect yourself with the organization, as seen in the screenshot below:
Create a New Account: If you do not currently have a Thrive Health account. After clicking this option, your email address will be auto-filled from the invitation. You can create a password to create a new account.

Sign Up with Google:

You can select Sign up with Google if your email is a Google account. Click Sign up with Google to connect your Thrive Health Account with your Google account. You will not have to create a new password. Please note that you will

always

log in with your Google credentials going forward.
Log In: If you already have a Thrive Health account, you can select Already have an account? Log In. This will connect your current Thrive Health account with the referring organization.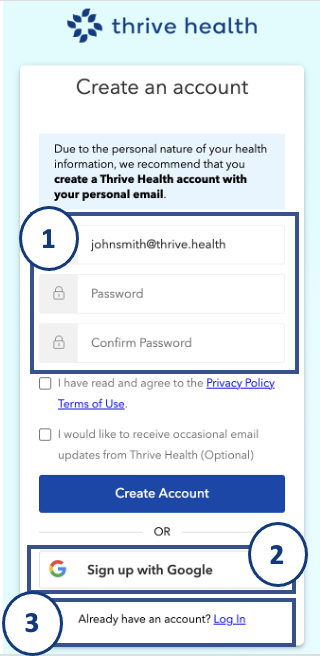 5. Select your Preferred Language
6. View a virtual tour of the Thrive Health Platform
7. Read and accept the Privacy Notice and Consent Form for your organization
8. Verify your Identity
Note: The identity verification field is determined by your Organization Administrator. If you receive an error when trying to verify your identity, refer to this article on how to amend records of your personal information: How to update personal information.
9. Complete your profile and submit it. You are successfully connected with your organization.
Workflow #2: Self Registration with a Registration Code
Your referring organization will provide you with a Registration Code to use when registering with Thrive Health. Refer to the appropriate section below, depending on if you are an end user or patient on the Thrive platform:
End users
https://my.thrive.health is for end-users such as employees, students and parents, contractors, or visitors.
Open your browser window on your phone, computer or tablet and go to my.thrive.health
Create an account by selecting Sign Up or Sign in with Google. If you use the Sign Up option, you will be prompted to verify your email
Confirm your agreement with Thrive's Privacy Notice and Terms of Use
Select the Get started on Thrive Health task on your home page. You will be prompted to enter the registration code provided to you.
Complete your profile by entering your registration code
Note: for more information on Registration Codes, refer to this article: Where do I get a registration code?
Patients
https://app.thrive.health is for patients visiting clinical providers.
Enter your account details or select Sign Up
Choose I have a registration code
Enter your registration code
Confirm the Privacy Notice and Terms of Use
Create your account
Verify your email address
You are now connected to the organization and can complete assigned tasks on your homepage